EASTER: 2014
JERUSALEM, Israel | DMN – Thousands of Orthodox Christians flooded Jerusalem's Old City on Saturday for the annual lighting of the holy fire — a massive Easter event that mostly unfolded smoothly, although there were reports that Israeli police officers created barriers for some Palestinian Christians who were seeking to attend together with a group of high-ranking diplomats. Robert Serry, the United Nations' special coordinator for the Middle East peace process, said he and several other senior diplomats had joined with Palestinian Christians in a special procession to the Church of the Holy Sepulcher, which is built on the hill where Christians believe Jesus was crucified and buried before rising from the dead. But despite earlier assurances of unhindered access to the church for the Saturday of Light ceremonies, Serry said in a statement, Israeli police refused to allow the group entry, saying they had orders to that effect. "A precarious standoff ensued ending in an angry crowd pushing their way through," Serry said.
Israeli police spokesman Micky Rosenfeld said that if such an incident did occur, police would look into it. "During the day, many delegations were escorted into the Old City, and the police coordinated and prepared ahead of time with no incidents occurring," he said. "Considering the thousands of people that visited today, the event passed quietly and respectfully," he added. The special coordinator expressed dismay at the incident and called on "all parties to respect the right of religious freedom, granting access to holy sites for worshipers of all faiths and refraining from provocations not least during religious holidays." Restrictions of the kind Serry described are not unusual this time of year. For the past eight or nine years, one of the annual rites of spring for Palestinian Christians is to complain about their access to the holy places during Easter Week — and for Israeli officials to deny they are doing anything wrong.
This year, it seems, is no different. But the Palestinian cause is gathering more support, and the issue is drawing more attention in anticipation of the pope's visit here in May. This month, the Israeli High Court of Justice agreed that Palestinians' rights were being violated by police checkpoints and other restrictions that annually create obstacles to worship. According to the newspaper Haaretz, an internal European Union report noted that the situation last year was especially disturbing. The Latin Patriarch of Jerusalem and head of the Catholic Church in Israel, Cyprus, Jordan and the Palestinian territories, Fouad Twal, said that the number of Palestinians attending Palm Sunday processionals earlier this week was "very low," and he blamed Israelis for the sparse turnout. "I saw very few of our local people" coming into the Old City, Twal said.
About 50,000 Catholic and Orthodox Christians live in the West Bank and the Gaza Strip, and many need a permit to travel to Jerusalem in the days before Easter. "I spoke with authorities," Twal said. "Maybe there were less permits, maybe they came late, or they gave one to the father but not to the mother." Restricting Palestinians' access to Jerusalem during Holy Week, Twal said, is "not fair, not just, not religious." Thousands of Israeli police and soldiers were deployed this week in and around Jerusalem's Old City, central to the world's three monotheistic religions, as huge crowds came to pray and celebrate Passover and Easter. "There is no dignity in this," said Firas Aridah, a parish priest at St. Joseph's Church outside the West Bank city of Ramallah. "I need a permit to enter into Israel, why? . . .This is my mother church, my state?" "I do not believe this is security," Aridah added. "The Israelis do not want to show how many Christians are living here and that they are powerful in the Old City."
Maj. Guy Inbar, spokesman for the Israeli military-run authority that oversees the West Bank, said it was not true that fewer permits had been given out this year to Palestinian Christians wanting to visit Jerusalem. "So far this week, we have issued more than 17,000 permits. That is basically more or less the number of people who applied for them," Inbar said. "Only a handful of people were denied permits, and those were due to security concerns." Hind Khoury, a former minister of Jerusalem affairs for the Palestinian Authority, said she has seen priests roughed up and insulted by Israeli security personnel and that security forces enter the Holy Sepulcher Church. "People are not coming to Jerusalem anymore" from the West Bank, Khoury said. "Who wants confrontations and tear gas? Easter is supposed to be a time of joy."
Pope Francis has presided over an Easter Vigil in St. Peter's Basilica in which he will baptize 10 people. The vigil is among the most solemn and dramatic on the church calendar, with Francis entering the darkened basilica with a lone candle, which he then shares with others to slowly illuminate the church. The heavily symbolic service commemorates the darkness over the crucifixion of Christ on Good Friday and the joy and light at his resurrection on Easter Sunday. Francis urged the priests, bishops, cardinals and ordinary Catholics gathered for the late night service Saturday to remember when they first found their faith. He said: "Do I remember it? Have I forgotten it? Look for it. You'll find it. The Lord is waiting."
More than 150,000 packed St. Peter's Square as the pope delivered two important messages to followers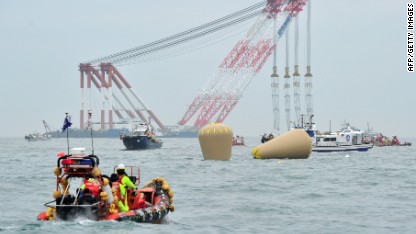 Passengers couldn't board lifeboats as the ferry had listed too much, a crew member said, according to a transcript released Sunday. 
FULL STORY
MORE TOP STORIES
Egg Sculptures Displayed at Rockefeller Center in New York
Obama Presents the Commander-In-Chief Trophy to Navy
MLB Cincinnati Reds at the Chicago Cubs at Wrigley
Christians pray on Good Friday in Jerusalem
National Army Day Celebrated in Iran
Clinton Family in New York at Girls Club and Rainforest Concert