Gripping Midwest with sub-zero temps, wind chills in many places; setting sights on Mid-Atlantic and as far south as Ga., Ala., even Fla.
REPORTERS NOTEBOOK: WHAT…EXACTLY…IS A POLAR VORTEX?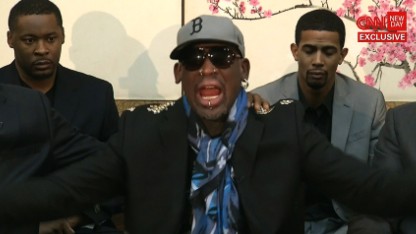 In an exclusive interview with CNN's Chris Cuomo, Dennis Rodman reacted angrily when asked whether he and other former NBA players should have traveled to North Korea. 
FULL STORY
THE LATEST
MORE TOP STORIES
2014 International CES in Las Vegas
Bao Bao the Giant Panda Cub Media Preview in Washington, D.C.
Japanese office workers pray on the first business day
2014 International CES in Las Vegas
San Francisco 49ers at Green Bay Packers NFL Football Wildcard Playoff
Professional Bull Riders at Madison Square Garden
It's 7 times bigger than Las Vegas
Macau is the now heavyweight champion of gambling.